Wee Care Child Development Center, Inc.
Our primary goal at Wee Care Child Development Center is to promote growth and the social, emotional, physical and intellectual development of each child while recognizing and encouraging their "I am, I can", to compliment and enrich the home and family environment, to provide opportunities for parents to increase their understanding of educational values and to cooperate with parents in sharing responsibility for the education of their child.
Be assured that we will, to the best of our ability, love, respect and educate your child and provide for his health and safety, accept him and not try to make him over in an image of what we believe he should be.
Our center will provide space and equipment for the child to develop physically, provide opportunities to interact with peers, learn how to cope with adversity, a chance to test his abilities, live with his failures, and move on to success.
We can provide the quality care that will enrich the life of the child.
Categories
Services
Business Type: Child Care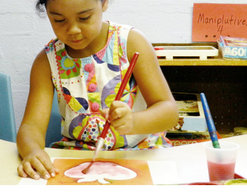 Business Hours:
| | |
| --- | --- |
| Monday: | 7:00am - 5:45pm |
| Tuesday: | 7:00am - 5:45pm |
| Wednesday: | 7:00am - 5:45pm |
| Thursday: | 7:00am - 5:45pm |
| Friday: | 7:00am - 5:45pm |
| Saturday: | Closed |
| Sunday: | Closed |